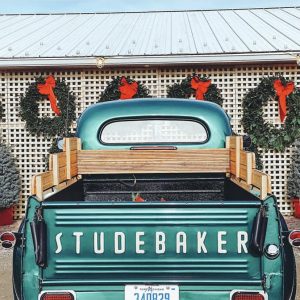 Harbor Country Chamber of Commerce Virtual Community Mixer  
Friday, December 4 at 7 pm on the Harbor Country - Facebook Live! You don't have to be a member! Bring home dinner and a cocktail to go from one of the local restaurants LIST and enjoy the holiday classics played on the piano by Maggie Martin. Sing along in the comments
Three Oaks Merchants
-"Let the Holiday Season begin! Here is our handy list with the opening times for Three Oaks Restaurants, Galleries, Vintage/Antique stores, Shops and Boutiques. Most of us are open year-round-so come and visit!
To view click here!"
Three Oaks Township Public Library
12 Days Till Christmas Celebration  Saturday, December 12th
2-8 PM at Heritage Hall Old Township Hall enjoy The Prance Open House
5:30 PM Christmas Parade on Elm Street
6 PM Carver Park meet with Santa, write a letter for Santa, take photos, social distancing with a twist!
Please be prepared to wear a mask
New Buffalo Township Library -"It's close to the most wonderful time of the year! The library is giving Santa a huge helping hand by accepting his letters from children. Then we will make sure he responds to those letters! Send your letters to Santa, and we will make sure he writes back!"
November 16th-December 21st Mail To: SANTA, 33 N. Thompson St, New Buffalo, MI 49117
Falatics Meat Market Monday, December  21:  will be offering Freshly Made Christmas Sausage. $5.89 LB. Limited Supply.
Red Arrow Roasters -"Tis the season for gifting & shipping! We've been busy updating the website, adding a couple shipping options and a link to purchase eGift Cards (emailed to your specified address).  Tangible Gift Cards are also available for purchase in any dollar amount at The Roastery. Come see us at the window this weekend!"
Lemon Creek Winery -"New Holiday 4-packs are out! Enjoy these discounted wine bundles for yourself or gift them to loved ones near or far. These wine bundle will be available for shipping or curbside pickup, and purchasable from our online store through December 17th! Wine club members receive an additional 5% off."