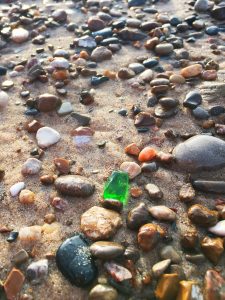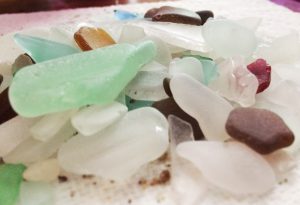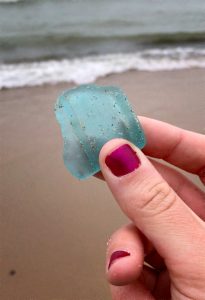 Beach Glass: Lake Michigan's Treasures
Article and Photography: Kelly Gampel
Catching the glimmer of beach glass in the sand always makes my heart flutter.
Always.
Imagine it: You're walking along the beach, feeling the sand between your toes and the cool breeze brushing through your hair. The sunset has begun painting the sky with pink and purple swaths. Your gaze lowers for a moment when you see it: something shimmering along the shoreline. You lean in for closer inspection and pick up a frosted piece of glass. Oh the tales it could tell about the journey it has been on.
This is why finding beach glass adds pep to my step. Not only is it gorgeous, but each piece is unique and has its own story that spans the decades it's been tumbling in water.
And I'm here to share how you can snag one of Lake Michigan's treasures.
Beach glass hunting is one of my favorite pastimes, and I do it three out of the four seasons here in Southwest Michigan. My hobby began in the summer of 2017 when I found myself walking along Lake Michigan Bridgman and Sawyer multiple nights a week. Now, I'm not a professional beach glass hunter but I would classify myself as a serious hobbyist; I have gallons of glass to show for my hours of investment, and have found all the colors of the rainbow along the beaches in Harbor Country: Warren Dunes State Park, Weko Beach, Cherry Beach … just to name a few.
While you can't take Lake Michigan home with you, a piece of beach glass is the next best thing. So what are some best practices that you can implement the next time you go to a Harbor Country beach?
Tip #1
To have the best chance of finding beach glass, focus your attention on beaches that have pebble patches along the shoreline. Why? Because as the lake pushes beach glass up on shore, pieces are more likely to get caught in these piles versus a smooth surface like sand.
Tip #2
Lowlight is your friend - this means going at sunrise or sunset, especially if you're a beginner. When the sun is lower in the sky, it'll illuminate glass and make them glow, thus making them easier to spot among pebbles. Our corner of Lake Michigan has a plethora of white and brown beach glass, with green coming in at third.
Tip #3
Set your gaze a few feet in front of you and not just at your feet. You'll be able to take in more area … plus it'll help save your neck from hurting the next day.
Tip #4
Keep the sun out of your eyes. This is most easily achieved by walking with the sun at your back, but that only happens one way on a round trip. I can often be spotted walking with my back to the water if need be. Another option is to wear a hat.
Tip #5
Wear shoes if you're going out for a longer walk or if the area is especially pebbly. Walking over rocks can hurt if your feet are not accustomed to the pebble patches, which is exactly where you want to be.
Bonus Tip:
Be environmentally conscious and bring a reusable bag that has small holes in the bottom to let the sand fall through. Also consider taking at least one piece of garbage with you when you leave to keep Harbor Country beautiful.