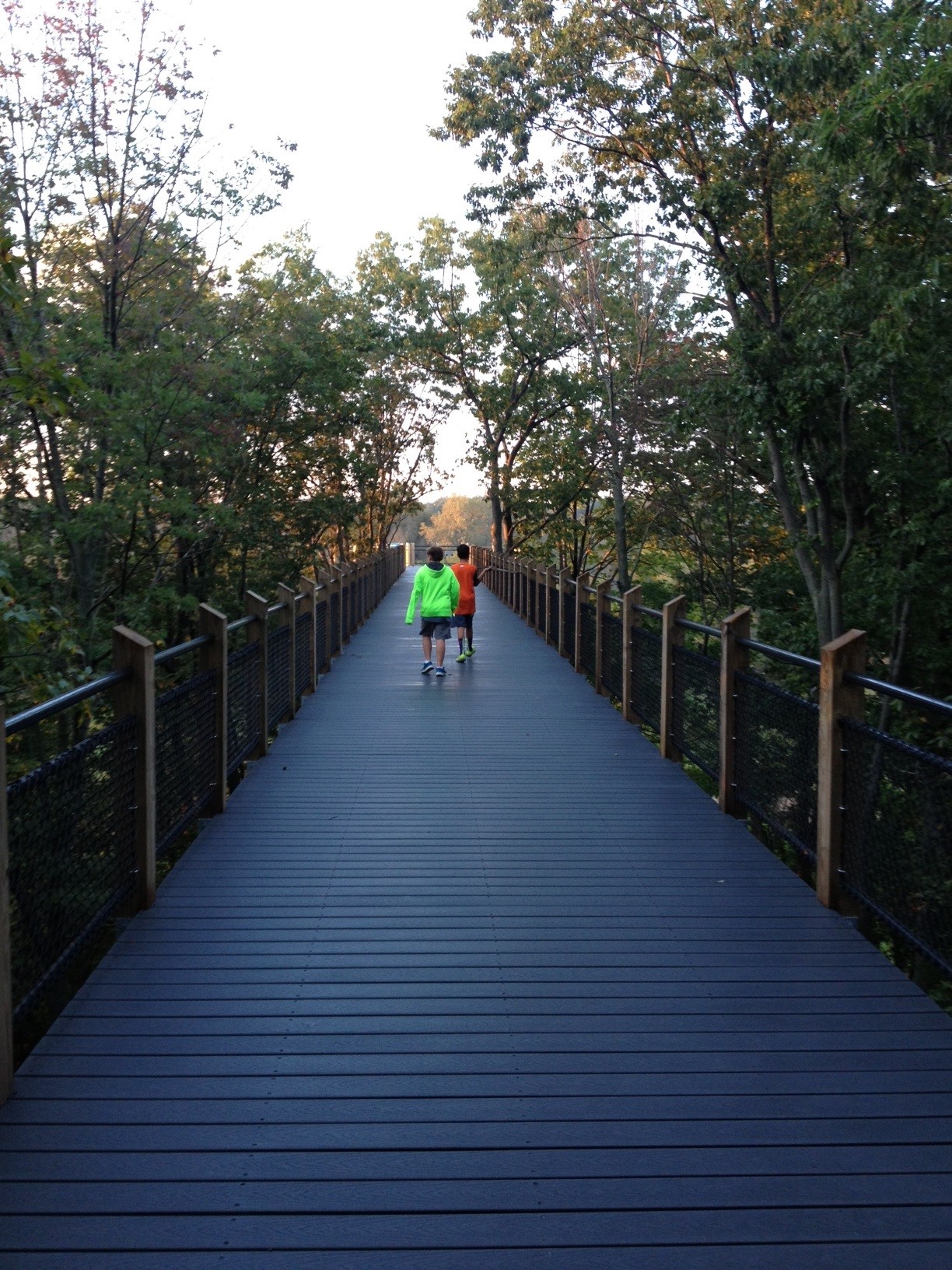 New Buffalo:
Galien River County Park, 17424 Red Arrow Hwy, New Buffalo  Featuring a tree canopy walkway that leads to a 60-ft high overlook tower providing breathtaking views of wetland habitats. Walkway below leads to a river and fishing platform on the Galien River. Both accessible via hard-surfaced, barrier free hiking trails. Open dawn – dusk. Closed in winter. No dogs allowed.  No fees.
Louis J. Sima Great Lakes Marsh, 17424 Red Arrow Hwy, located along the Galien River in New Buffalo, adjacent to the Galien River County Park. Owned and managed by Chikaming Open Lands, contains 150 acres of one of the richest habitats on earth. Several state-listed threatened species are found here. Canoe or kayak with access at the Galien River boat launch on Red Arrow Hwy, or at the New Buffalo City boat launch.
Glassman Park consists of 47 acres of property that stretches along the side of the Galien River. The park features a kayak launch, walking trail, zen labyrinth, fishing and river look out points. The Glassman Park entrance is found at the end of Glassman Rd on the Northwest side of the road.
Grand Beach Marsh Preserve, Deer Park Drive, off Grand Beach Road in Grand Beach. Owned and managed by Chikaming Open Lands, the 11-acre preserve is an outstanding example of a globally rare coastal plains marsh. A ½ mile trail loops through the woodland alongside the marsh. Roadside parking. No bicycles or hunting. Leashed dogs are welcome.
Lions Pavilion Park, From a generous gift to the City of New Buffalo from the New Buffalo Lions Club.  The pavilion is located at 101 Marquette Drive, across the street from the City Beach.
New Buffalo Lakefront Park and Beach  N. Whittaker St, across the bridge. Lifeguards on duty Memorial Day – Labor Day 10 am – 6 pm. Warning flags indicate lake conditions. Designated swim area. Sand-wheelchair is available at snack bar. Pavilion, restrooms, picnic tables, grills, playground and benches. Food, drink and fun can be had at the New Buffalo Beach Club. Parking fee. Sunrises and sunsets are free. 269-469-1522.
New Buffalo Township Memorial Park, Red Arrow Hwy, north of US 12, has a pavilion with picnic benches, grills, playground, basketball court, splash pad, bocce ball courts, horse shoe pits and restrooms. The pavilion can be rented. 269-469-1011
Oselka Park, Bronson and Indiana, behind the public New Buffalo High School football field, offers baseball fields, playground and sled hill. The pavilion with fireplace can be rented. 269-469-1500
Sari Asher Memorial Dog Park, 1420 Washington St, New Buffalo. Where dogs can run and play. Open dawn – dusk. Open to the public. Donations accepted at the park.
Turtle Creek Preserve, Lubke Road adjacent to the New Buffalo Elementary School. Owned and managed by Chikaming Open Lands, the 12-acre woodland features a hardwood forest and seasonal wetlands. Turtle Creek runs through the property. A trail network loops through the preserve. Parking is available in the visitor spaces at the school parking lot. No bicycles or hunting. Leashed dogs are welcome.
Chikaming Township:
Chikaming Township Park and Nature Preserve, Warren Woods Rd near the I-94 overpass. 263 acres include wetlands, woodlands, a 5-acre lake and borders the Galien River. It is diverse and rich, providing a wide variety of ecological habitats for bird study, wildlife ecology and flower and tree identification. Walking trails, a mountain bike trail, viewing and fishing platforms, picnic facilities, community garden and restrooms.
Harbert Community Park, 13411 Red Arrow Hwy, includes a regulation size Little League baseball field, bleachers, a pavilion with two grills and picnic tables, benches, a playground, a small fishing pond and a dog park. Ice skating rink in the winter. Open dawn – dusk.
Harbert Road Preserve, Harbert Rd between Three Oaks Rd and Flynn Rd, is an 88-acre preserve with two ponds, wetlands, wooded and open land trails, bluebird boxes, a shelter, prairie grass field, nesting fields for pheasants and wild flower patches. Wear your walking shoes because it's a hike from the parking area to the blazed trail. Open sunrise to sunset.
Jens Jensen Preserve is a 23-acre tract of woodland located off Parkway Drive, west of Red Arrow Highway in Sawyer. Owned and managed by Chikaming Open Lands, the preserve contains a high quality hardwood forest and an extensive, well-maintained trail network suitable for hiking. The trail system extends into the 20-acre Pepperidge Dunes Preserve, which is owned by the Michigan Nature Association and is just adjacent to Jens Jensen. Parking is along the roadside. No bicycles or motorized vehicles. No hunting. Leashed dogs are welcome. Please stay on marked trails.
Robinson Woods Preserve, 8015 East Rd, Lakeside, is an 80-acre forested nature preserve on East Road in Chikaming Township. Owned and managed by Chikaming Open Lands, the preserve consists of mature forest dominated by beech, maple and oak trees. Multiple streams flow through steep ravines cutting through the preserve. Robinson Woods features several loop trails through the woodland, appropriate for hikers of all fitness levels. There is a parking lot at the entrance to the preserve. No bicycles or motorized vehicles. No hunting. Leashed dogs are welcome. Please stay on marked trails.
Warren Woods State Park, East of I-94 between Warren Woods Road and W. Elm Valley Road. A favorite site for hikers and naturalists, the virgin beech-maple forest is the last of its type known in Michigan. There are outstanding individual trees of several species, including many greater than five feet in diameter and more than 125 feet in height. Spectacular displays of wildflowers are best viewed in April and early May. Naturalists will also appreciate the wide variety of plants and wild flowers that grow in the woods.
Sawyer:
Warren Dunes State Park  Offers 1,952 acres of recreation area. Dune formations rise 240 feet above the lake with 3 miles of Lake Michigan beaches, six miles of hiking trails and is open year-round. Available for winter sports. Walking pedestrian paths available (no bikes allowed). Concessions open from Memorial Day thru Labor Day. Pet-friendly shoreline. 221 modern dune campsites and rent-able mini-cabins on the campgrounds.  Several picnic areas and a picnic shelter for rent.
Three Oaks:
Carver Park,  Oak and Ash, Carver Park is a wonderful spot for a picnic. The park houses picnic tables, grills, and a pathway. There are historical markers with information about the history of the area.
Chamberlain Path, Elm and Maple, Three Oaks Sculpture Garden in downtown at Chamberlain Path is home to beautiful sculpture by several highly-esteemed artists that is funded by the Harbor Country Public Arts Initiative. The path connects Elm St. and Generations Drive.
Dillard Park, North side of town at Cherry and Walnut. This is a small neighborhood playground.
Dewey Cannon Park, E Maple St, Three Oaks, is home to the historic Dewey Cannon which was presented to the village by President McKinley for raising the highest per capita amount in the nation for the Spanish-American War Memorial. Band shell, picnic tables and volleyball courts are available. Open dawn to dusk. Check the Harbor Country calendar of events for weekend music.
Kesling Nature Preserve, West Forest Lawn Rd, Three Oaks. Located along the South Branch of the Galien River, the Kesling Nature Preserve is one of the most popular spring bird-watching spots in Berrien County. Home to a rich diversity of plants and wildlife and scenic views of a 40-foot deep ravine under a canopy of giant beeches, maples, oaks and many other kinds of trees.
Timber Town Playground, Nels Dr and Locust St, Three Oaks, is a unique playground where kids can hide, glide, slide, climb, balance and tumble. There's a special Tiny Town area for 2- to 5-year-olds. Built of timber with non-skid surfaces and padded hand and foot grips, it's a great playground kids will love.
Watkins Memorial Park, Nels Dr and Locust St, Three Oaks, is a 20-acre park which includes Hoadley Trail with a 1-1/2 mile physical education trail including 21 workout stations. The park features sand volleyball courts, baseball field, basketball court and picnic tables. There is a large pavilion with prep kitchen, bathrooms, grills, picnic tables and electricity that can be rented. 269-756-9221
Niles:
Fernwood Botanical Garden and Nature Preserve, 13988 Range Line Rd, Niles. (near Buchanan on the St. Joseph River) Fernwood offers a wide variety of programs, classes  and concerts throughout the year. This nationally recognized nature preserve offers many gardens and wooded trails on 106 acres. Enjoy lunch in the cafe, visit the art gallery, gift shop and small conservatory. For current information call 269-695-6491, fernwoodbotanical.org
Michigan City, Indiana:
Friendship Botanic Gardens, 2055 E. US 12 Hwy, Michigan City, IN 46360 105-acre botanical park with hiking trails, gardens, children's playground, musical events, educational programs and holiday events. Lovely venue for weddings, receptions, business luncheons, festivals, and other events. Dog friendly. Open to public. May-October and weekends. April – November. For current information call 219-878-9885, friendshipgardens.org