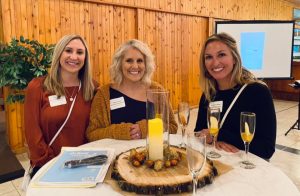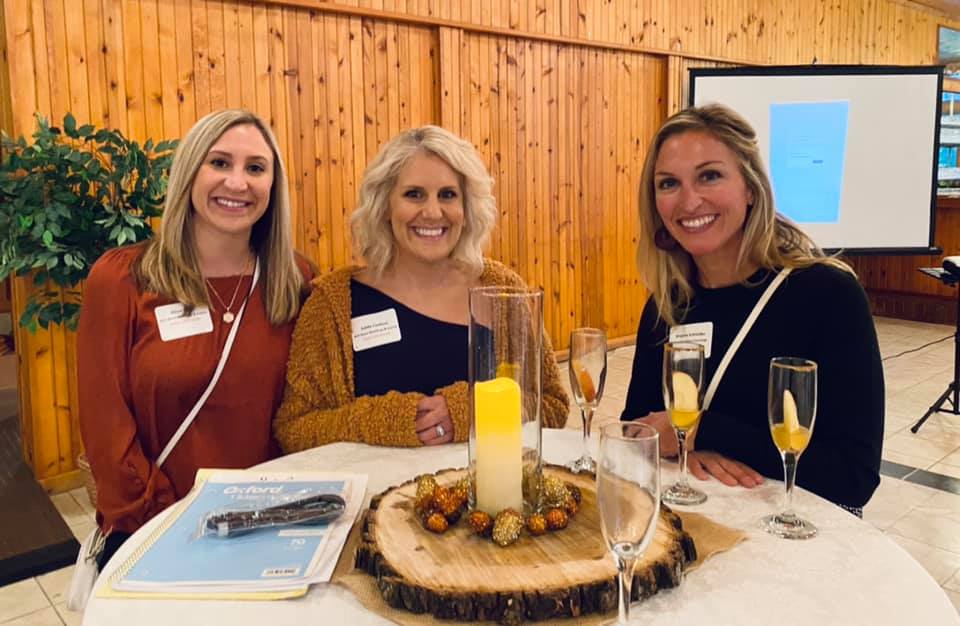 Program:
Cash Bar/Appetizers /Networking (5:30-6:30 pm)
Dinner/ Guest Speaker (6:30-7:30 pm)
Business Meeting, Installation of Officers & Board of Directors (7:30-8:00 pm)
Thank you for your attendance! It was a beautiful night.
ANNUAL DINNER MEETING
Wednesday, October 27, 2022
5:30 pm - 8:00 pm
Village of Grand Beach Hall
Dinner buffet, cash bar
Caterer: Skip's Restaurant and Catering
Prime Rib, Chicken Alfredo and rice, Cherry Tomato Penne Pasta, Grilled Vegetables, New York-style cheese cake cupcakes w/ fruit
TICKET OPTIONS
Ticket sales close 9 am Friday, October 21
Member Dinner Ticket: $70
Major Sponsorship: $700 (Table of 8) Only two left!
Dedicated social ad, website and digital mentions, table sign, sponsor-provided banner at event
Minor Sponsorship: $100  Non-ticket. Display ad.
Sponsorship deadline Friday, October 20.
2023 ANNUAL RECAP REPORT
Peer Member Award Winners
Most Community Minded - Neighbor By Neighbor
Outstanding Young Entrepreneur - David's Deli
Largest Economic Impact - Journeyman Distillery
Sponsor display ad size: 3.73" w x 2.375" h *Closed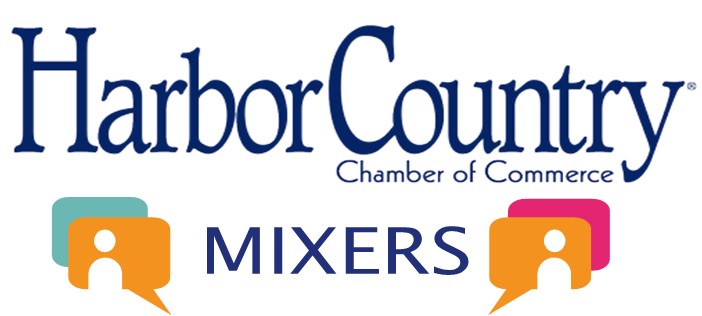 HARBOR COUNTRY MIXERS
Monthly September - May
Fun networking events. No charge.
Food and drink.
Announcements at 6 pm.
Open mic for members.
Explore the business and meet the host!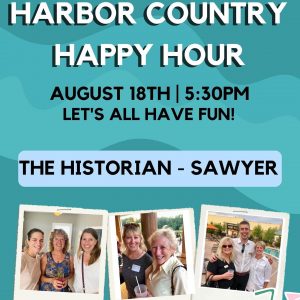 HARBOR COUNTRY HAPPY HOUR
1X per month | June - August
Catch up at this social hour for a casual fun meet up
Bring your friends and family
Support your local business
Harbor Country Guide Launch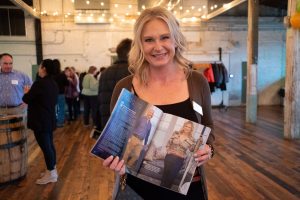 HARBOR COUNTRY GUIDE LAUNCH MIXER
Thursday, April 20, 2023 | 5:30 pm - 7:30 pm
LOCATION TBA
Member and member guests.
Ticket $20
Sponsorships TBA
Appetizer buffet. Cash Bar. Live Music.
NEW! Member brochure exchange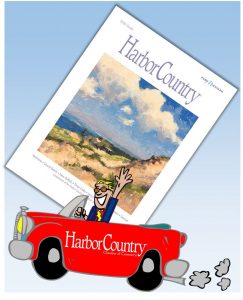 GUIDE DRIVE BY PICK UP PARTY
Monday, April 24, 2023
Harbor Country Chamber Center
Parking Area
Drive thru to load up boxes of the 2023 Harbor Country Guide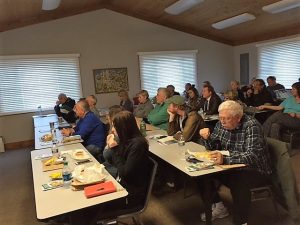 HARBOR COUNTRY SEMINAR SERIES
Cost $10  Inc food and drink
Times will vary. Dates and Speakers TBA
January: "Year Round Success" 
January:"It's All About Member ROI" 
February: "Building Brand Recognition" 
March: "Social Media Strategies"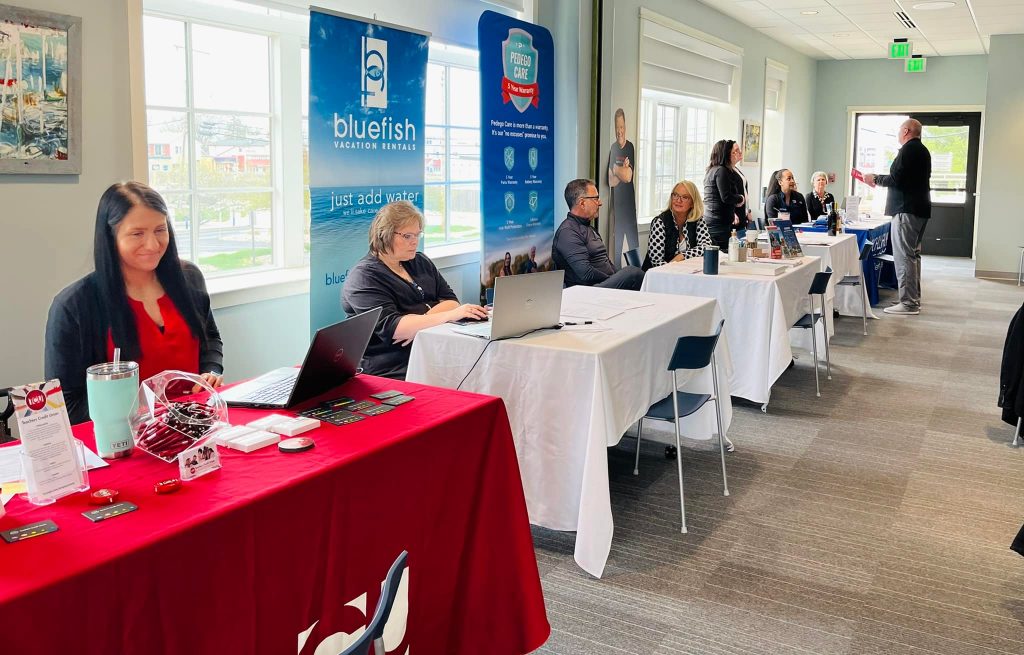 HARBOR COUNTRY HIRES JOB FAIR
April - May Date(s): TBA
Employer Booth Cost $40
Traveling locations considered
Promotional budget
Join the Harbor Country Hires Job Fair Task Force - 3 mo planning team. Request Info (LINK)
Harbor Country Guide 2023
MEMBER DIRECTORY
2023 HARBOR COUNTRY GUIDE
View Information, distribution and ad pricing  LINK
Sales open Tuesday, September 27 -  1 pm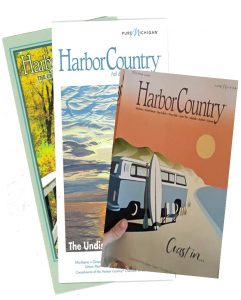 BEYOND EXIT ONE
2023 GUIDE COMPANION PIECE
Folded brochure map utilizing QR codes
Under contract regional mass distribution: North MI, IL, IN, OH, WI
Distribution start date: April 2023
Member display ad $600
Information, distribution and pricing
Sales open TBA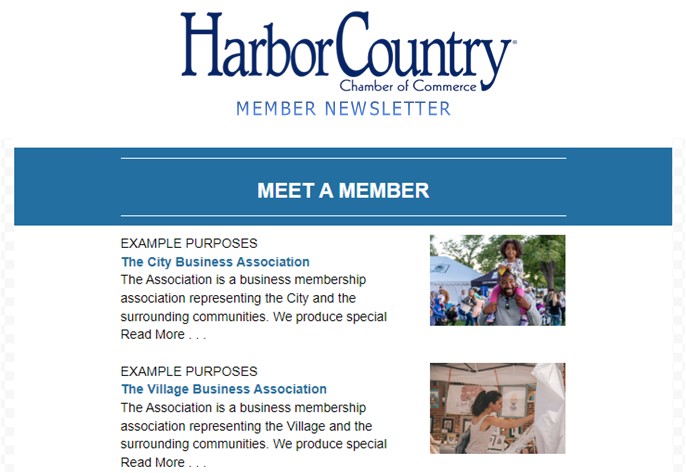 MEMBER NEWSLETTER
MEMBER SPOTLIGHT NEWS STORY
Reach your fellow members!
Bi-monthly digital newsletter.
Member provides 100 words and photo
Distribution: 572  Open rate: 50%
Click 14.8%
Appears at end of Member Newsletter
3 Month - $1,440
6 Month - $2,160
12 Month - $2,880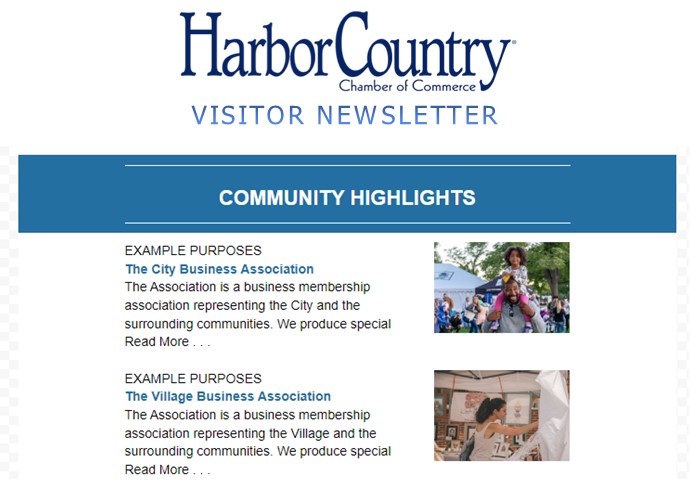 VISITOR NEWSLETTER
MEMBER SPOTLIGHT NEWS STORY
Monthly digital newsletter promoting Harbor Country
Member provides 100 words and photo
Distribution: 1,969  Open rate: 17%
Click 11.8%
Appears at end of Visitor Newsletter
3 Month - $1,575
6 Month - $2,100
12 Month - $1,680
HarborCountry.org Website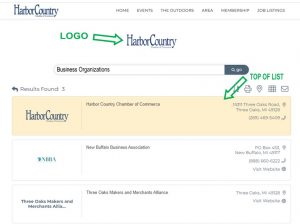 HARBOR COUNTRY CHAMBER WEBSITE
LOGO BANNER ADS
Available webpages:
Your Main Category Listing Page
Event Calendar Page
Specials Page
Cost:
1 Month - $600
3 Months - $480
12 Months - $400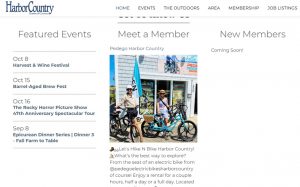 HARBOR COUNTRY CHAMBER WEBSITE
MEET A MEMBER SPOTLIGHT AD
Member provides photo and article
Frequency: One member blog per month
A period of 1 month must be scheduled between reserved months by a singular member
Cost: $200 per month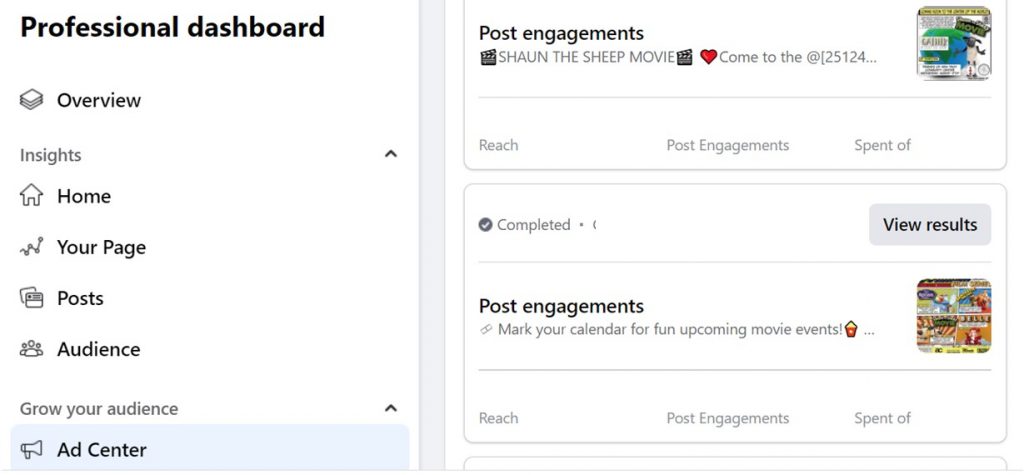 #HARBOR COUNTRY SOCIAL MEDIA
ON-DEMAND MEMBER BOOST CAMPAIGN
Great for your events and new announcements!
20 mile radius
Boosted posts appear on Harbor Country Facebook
Instagram organic post feed
20 Matched target interest keywords
Access to more than 8,000 total followers
Member submits all text and photo content
Cost: $200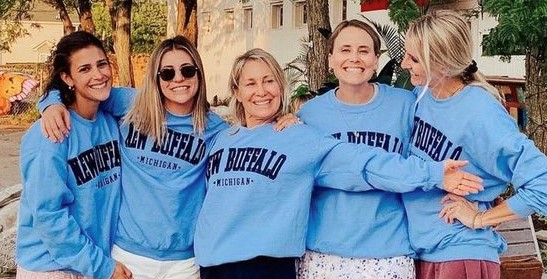 #HARBOR COUNTRY SOCIAL MEDIA
MEMBER CO-OP THEMES CAMPAIGN
WINTER | WEDDINGS | SUMMER
Rotating promotional itinerary themes.
Messaging "Coast Into Harbor Country"
Dedicated web page blog
Member receives dedicated highlighted boosted post
#BusinessMentioned a part of the promoted theme
Schedule: TBA Cost $450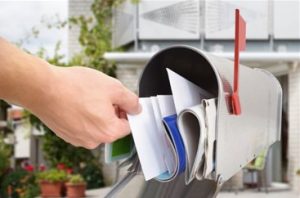 DIRECT MAIL
MY SERVICE MEMBER DIRECT MAILER
Folded direct mail piece - May 1st
Coastal zip codes: Beverly Shores, IN to Sawyer, MI and Three Oaks, MI. 6,000 pieces.
Content: Event and member service lists
Member display ads
Cost $900

Includes digital promotion package.
Ad sale date: TBA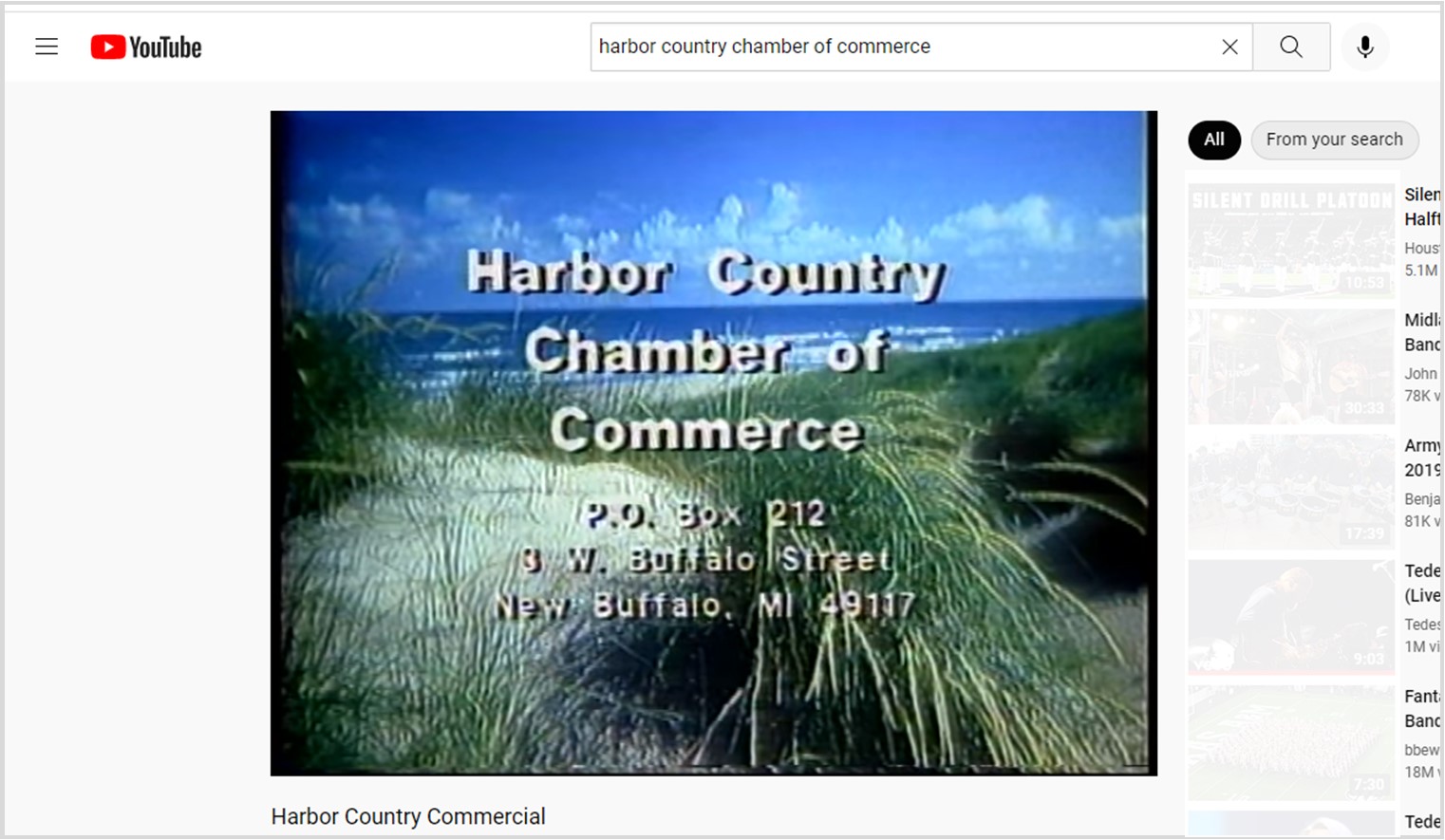 Usage: Harbor Country Guide | You Tube | #HarborCountry | Materials
SOCIAL MEDIA
HARBOR COUNTRY YOU TUBE CHANNEL
Harbor Country Chamber of Commerce is producing a professional video capturing the inspiring, endearing and perhaps surprising sides of our community.
Sponsor video ad spots will be available.
Member opportunities to post videos on the platform
Information and pricing
Sales open: TBA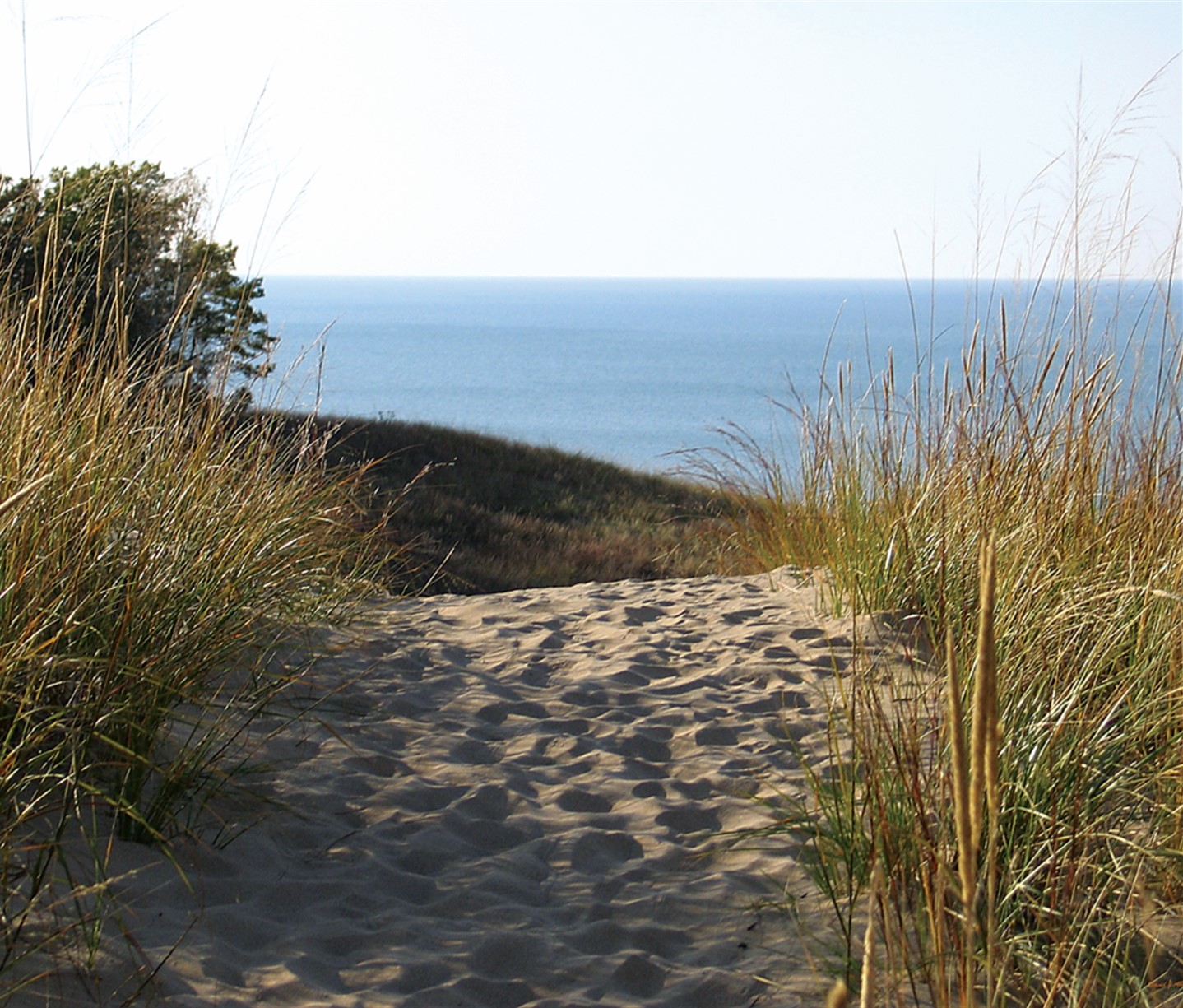 COMMUNITY INTERACTION
"THE BEST OF HARBOR COUNTRY"
Community survey
Business awards published in local media
Early Spring 2023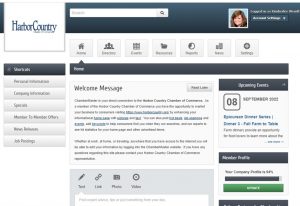 Dynamic tool to engage on your schedule 24 hours a day
HARBORCOUNTRY.ORG
CHAMBER MEMBER PORTAL
Member Benefit Included At No Cost
Customize your web page
Post public specials
Post member to member specials
Post job openings
Post events - community calendar
See how many visitors viewed your listing and "clicked" thru to your website