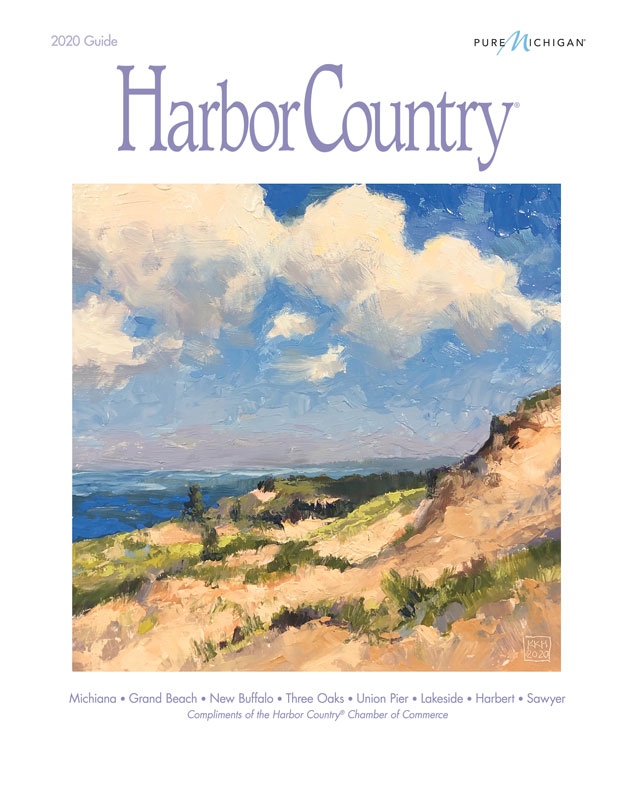 ADVERTISING SALES
Harbor Country Guide Statistics
Annual publication produced in-house by the Harbor Country Chamber of Commerce.
45,000 copies printed
Only area publication endorsed by Pure Michigan
14 Michigan Travel Centers - Including I-94 Welcome Center
In-room at major lodging locations - including Four Winds Casino
Stocked at University of Notre Dame and South Bend Airport
Digital version online on HarborCountry.org 24 hours

All display ads are hyperlinked to advertiser's website.

Serves as the Chamber Member Directory
View 2021 40th Anniversary Harbor Country Guide
Questions? Please contact: Kimberlee Wendt  kimberlee@harborcountry.org
2022 Harbor Country Guide 
Inclusion and ad placement requires Chamber membership
On-Line Harbor Country Chamber of Commerce Membership Application
DEADLINES
Advertising Deadline: January 7. Artwork Deadline: January 7
Artwork submission direct email: ads@fusiondg.com
FULL ARTWORK SPEC SHEET Download
Payment deadline: January 7.
Distribution Date 
Spring Breakout Party - Evening Thursday, March 31
Event location TBA
IMPORTANT ! ! !  PLEASE READ ! BEFORE YOU CLICK ON PURCHASE BUTTON !
You must establish a new log in for the Ecommerce store, it is separate from your usual Chamber log in
TO PURCHASE:
Purchase button will send you to the public store.
Credit card purchases only. Invoice request - contact the Chamber office to place your ad.
Click on the white title "ACCOUNT" - (middle black tool bar line)
USER NAME - your email address you use to interact with the Chamber.
Click on the white title "HOME" - (same black tool bar line)
Click on 2022 Harbor Country Guide Advertising
If you can only see the 2021 Harbor Country Guide Shipment Product:
You may not be a current member of the Harbor Country Chamber of Commerce.
You may not be a registered representative of a member business.
Your level of permission to make a monetary transaction may need to be acquired.
Questions? Please contact: Kimberlee Wendt  kimberlee@harborcountry.org
HARBOR COUNTRY GUIDE ADVERTISING OPTIONS
NEW! MEMBER SPOTLIGHT SECTION ARTICLE W/ PHOTO (7)  $2,700
Member Spotlight photo and article on a two-page spread at the beginning of 1 section head: Things To Do, Lodging (SOLD), Dining and Food, Wine, Beer & Spirits (SOLD), Shopping (SOLD), Wedding & Events, Harbor Country Living (SOLD). Seasoned reporter will perform interview and write article. Professional photographer will shoot session. Member will have 1 proof of article only. Photography is graphic design choice. Member can only appear at the head of appropriate Primary section.
HARBOR COUNTRY MARKET - FRONT SECTION (12) $425
Product highlight featured in front section of guide. Advertiser provides square photo and 100 word description. Photo and description are laid into template. Designed ads are not allowed.
FULL PAGE STANDARD DISPLAY AD $1,699
HALF PAGE HORIZONTAL DISPLAY AD $1,209
HALF PAGE VERTICAL DISPLAY AD $1,209
DOUBLE 1/8 - HORIZONTAL DISPLAY AD $886
QUARTER PAGE VERTICAL DISPLAY AD $739
EIGHTH PAGE HORIZONTAL DISPLAY AD $443
75 WORD DESCRIPTION $80
ADDITIONAL CATEGORY $60
BACK COVER DISPLAY AD (1)  $3,199 (SOLD)
INSIDE BACK COVER DISPLAY AD (1) $2,399 (SOLD)
INSIDE FACING BACK COVER DISPLAY AD (1) $2,399 (SOLD)
INSIDE FACING FRONT COVER DISPLAY AD (1) $2,399 (SOLD)
INSIDE FRONT COVER DISPLAY AD (1) $2,399 (SOLD)