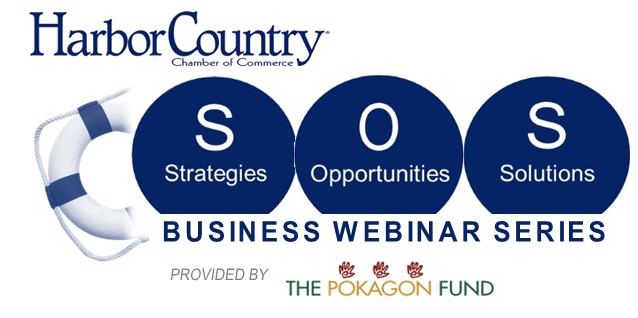 S.O.S. BUSINESS WEBINAR SERIES
Local-based Strategies, Opportunities and Solutions for business owners.
Harbor Country Chamber of Commerce and The Pokagon Fund present a free 20 minute business webinar each Wednesday.
Topics will include State and Local Resources, Financial Planning, Alternative Support Organizations, Marketing: Now & Later and Member Industry Panel Discussion. 
Covering issues, ideas, availability, eligibility and how to access with a question session. Recordings, resource links and documents will be available here to access.
MAY 6
INTERNET MARKETING IN HARBOR COUNTRY - NOW & LATER
Guest Speaker: Esther Ikoro  - Social Marketing Expert
Google. Social Media. New Programs. How to harness the power of on-line marketing now and build momentum to adapt to the fast changing future. Esther Ikoro is a Content Strategist at Birk Creative and has a Master Degree from the University of Illinois.
RESOURCE LINKS
Resources Compiled by Esther Ikoro softmetric.net
RESOURCES FULL LIST PDF DOWNLOAD LINK HERE
Google my business
Where to get free stock photos
Paid stock photos
Apps that you can use to edit photos and videos
Scheduling on instagram and facebook and looking at all of your content at once
Scheduling on instagram and facebook through facebook
Blogs and publications you should be reading
Other Google services
APRIL 29
3 PRACTICAL STEPS - BUSINESS FINANCIAL HEALTH NOW
Guest Speaker:  Tyler Olson - Olson Consulting LLC, St. Joseph
How your business can lay the groundwork now to best navigate the current economic climate and crisis. Tyler Olson is a license financial planner and enrolled IRS agent. Consulting with businesses and individuals since 2005.
APRIL 22
STATE OF MICHIGAN AND LOCAL RESOURCES
Guest Speakers:
Cornerstone Alliance Women's Business Center
Margaret Adams - Manager
Dubelsa Mata - Business Development Associate
Due to technical difficulties, the webinar session recording is not available. A recording of the guest speakers will be posted soon.
COV-ID 19 Relief - Southwest Michigan
Economic Relief Task Force
Financial Relief Resources
RAMPP: Rent and Mortgage Payment Program
RAMPP Application and Information
SBA Disaster Loan Assistance
SBA Microloan Program
Save Small Business Grants by The US Chamber of Commerce
Southwest Michigan Cares Fund