THE WARMEST SPOT ON THE LAKE MICHIGAN SUNSET COAST
BEACH AND WATER CONDITIONS
Our pristine Lake Michigan shoreline is the pride of Harbor Country.
Anchored by the City of New Buffalo public beach to the south and Warren Dunes State Park - Sawyer to the north.
Experience our "Singing Sands" – where the sands resonate at a high pitch as you walk the shore. A rare phenomenon only occurring on Lake Michigan shores.
Hunt for beach glass. View Fun Tips by Kelly Gampel.
Watch as the sun slowly sets into the waters of Lake Michigan on one of the very few sunset coasts in the United States.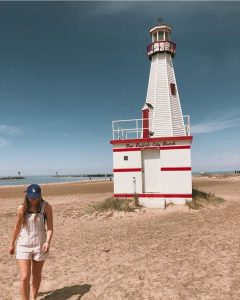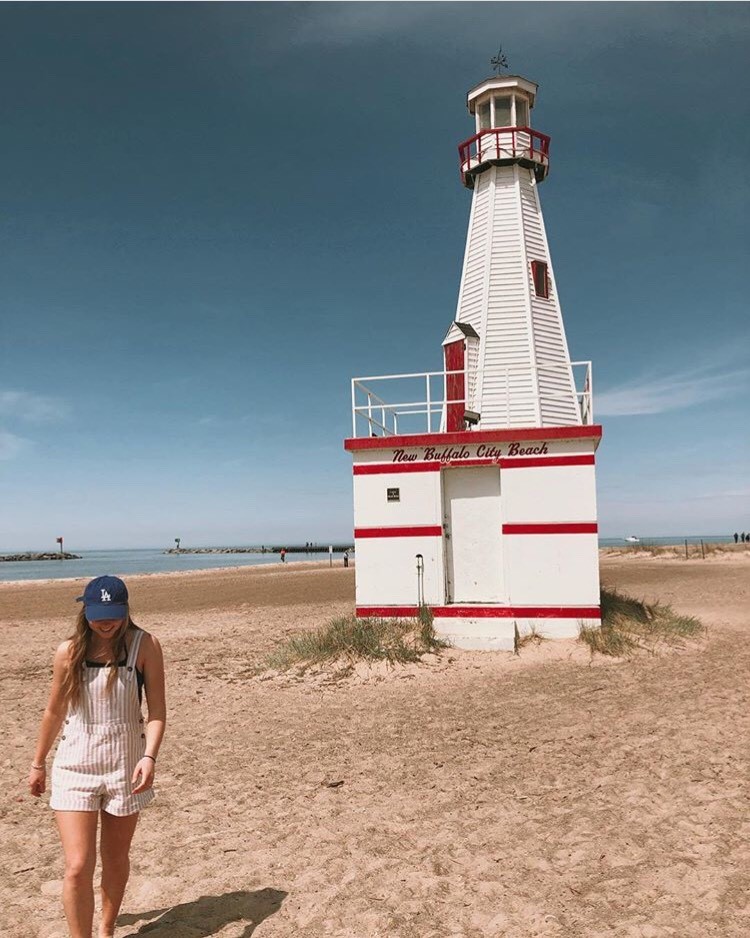 NEW BUFFALO CITY BEACH  Information |  Live View
Large beach with views of the harbor.
Restrooms.
Picnic tables.
Playground.
Kayak rentals.
Dune walk.
Lifeguards on duty 10 am – 6 pm April 1st – October 31st.
Parking fee. Sunrises and sunsets are free.
Beach Parking Fee Schedule 2023
April 1st - June 30th $15.00 per day. July 1st - August 16th $20.00 per day. August 17th - October 31st $15.00 per day.
3 Hour Parking is $7.50.
Payment Options
Credit card payment at one of the two kiosks.
The Passport Parking app is available at Apple App Store or Google Play Store.
NEW BUFFALO MUNICIPAL MARINA
Reserve a boat slip: https://midnrreservations.com/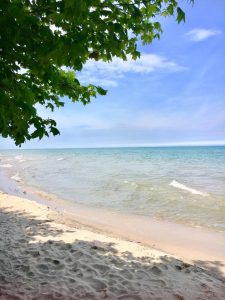 CHIKAMING TOWNSHIP – BEACHES AND PARKS
"Road-End" Beaches and Parks Listing  |  Safety and Regulations
Union Pier, Lakeside, Harbert, Sawyer   Many local township beaches provide several points of access to miles of sandy shores, unspoiled by commercial development, an ideal spot to plan your Michigan vacation. No lifeguards, parking or facilities. No pets, ground fires or alcohol are permitted.
The public has a right to walk on the Lake Michigan shore upon the land between the water's edge and the "ordinary high water mark," the place on the shore up to which the presence and action of the water is so continuous as to leave a distinct mark.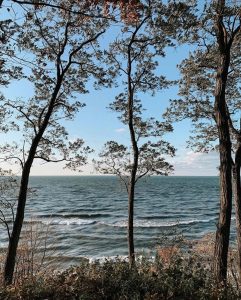 WARREN DUNES STATE PARK  Information  |  Rental Information
Warren Dunes State Park is ranked #1 in the State of Michigan and offers 1,950 acres of recreation area. Dune formations rise 240 feet above the lake with over 3 miles of Lake Michigan beaches.
Open year-round
Recreation Passport required. Purchased at a state park and or DNR customer service center.
Residents Annual: Vehicles $13. Motorcycles $7.
Non-Resident Annual: Vehicles $39. Daily: Vehicles $11.
Good for entry and re-entry to any state park.
Snow boarding, sledding, cross-country skiing - winter.
Walking pedestrian paths available (no bikes allowed).
Concession stand - Memorial Day thru Labor Day.
Dog beach.
Alcoholic beverages are prohibited.
Three accessible walkways from day-use sidewalk and water.
Two beach/aqua wheelchairs available to borrow at ranger station.
221 modern dune campsites
Rent-able mini-cabins on the campgrounds.
Several picnic areas and a picnic shelter for rent.
RIP CURRENTS
Rip currents are dangerous, powerful, channeled currents of water flowing away from shore. They can occur at any beach on Lake Michigan. As waves travel from deep to shallow water, they break strongly in some locations and weakly in others, this can cause circulation cells which are seen as rip currents: narrow, fast-moving belts of water traveling offshore. Safety tips for rip currents are provided at all Harbor Country beaches. Even experienced swimmers can be caught in rip currents!
Beach Safety Location System  Blue beach markers are installed every one tenth of a mile along the Lake Michigan shoreline. Starting at the 7.8 mile mark and extending to the 14.7 mile mark. These markers are coordinated to the Berrien County 911 system for faster emergency response in the event of a mishap. You can also call the local emergency center 866-630-7679.
STATE OF MICHIGAN BEACHES - DOUBLE RED FLAGS
Double red flags mean don't go in the water! 
If you see double red flags at a state-designated swim beach at a state park along the Great Lakes, you are not allowed to enter the water.
A DNR land order makes it illegal to enter the water when there is risk to human health and safety, including hazardous waves and/or dangerous water conditions, active rescue or recovery efforts, and environmental hazards.
Visit Michigan.gov/BeachSafety for tips and information on safely visiting the Great Lakes, including state-designated swim beach locations, the beach flag warning system, Great Lakes currents (and how to escape them) and more.