THE WARMEST SPOT ON LAKE MICHIGAN!
Miles of Lake Michigan Beaches! Our pristine Lake Michigan shoreline is the pride of Harbor Country.
Anchored by the New Buffalo public beach to the south and Warren Dunes State lies on the northern end of Harbor Country in Sawyer.
Experience our "Singing Sands" – where the sands resonate at a high pitch as you walk the beach. A rare phenomenon only occurring on Lake Michigan shores.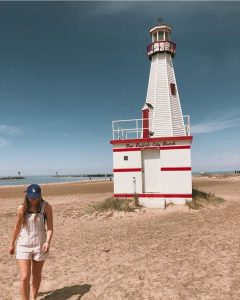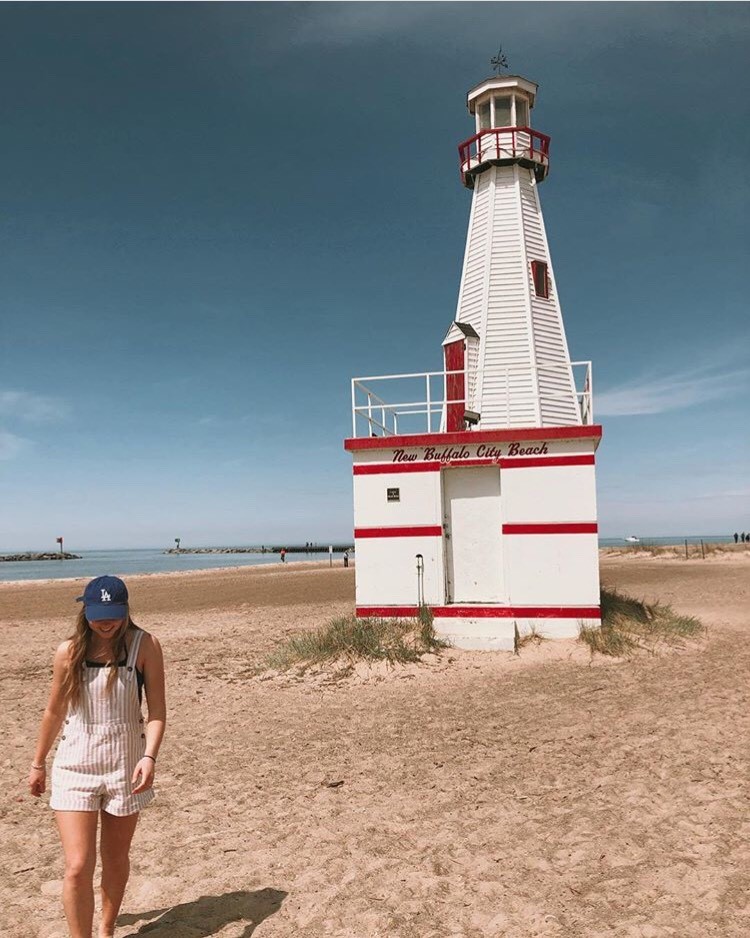 NEW BUFFALO CITY BEACH  Information |  Live View
A large beach with the New Buffalo Beach Club serving food and drinks. Restrooms, picnic tables, grills, playground and kayak rentals. Dune walk. Lifeguards on duty 10 am – 6 pm Memorial Day – Labor Day. A parking fee is charged. Sunrises and sunsets are free.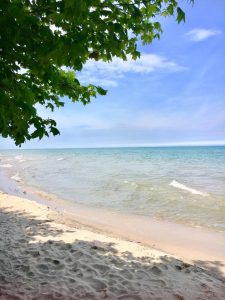 CHIKAMING TOWNSHIP – BEACHES AND PARKS
"Road-End" Beaches and Parks Listing  |  Safety and Regulations
Union Pier, Lakeside, Harbert, Sawyer   Many local township beaches provide several points of access to miles of sandy shores, unspoiled by commercial development, an ideal spot to plan your Michigan vacation. No lifeguards, parking or facilities. No pets, ground fires or alcohol are permitted.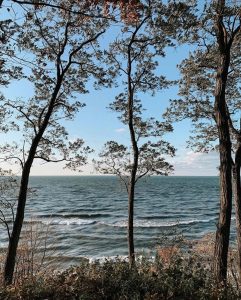 WARREN DUNES STATE PARK  Information  |  Rental Information
Warren Dunes State Park is ranked #1 in the State of Michigan and offers 1,950 acres of recreation area. Dune formations rise 240 feet above the lake with over 3 miles of Lake Michigan beaches. The park is open year-round and available for snow boarding, sledding and cross-country skiing in the winter months. Walking pedestrian paths available (no bikes allowed). A concession stand is open from Memorial Day thru Labor Day. Dogs are allowed on the beach area only at the far ends of the beach on the outsides of the buoys. Alcoholic beverages are prohibited. These rules are strictly enforced.
The park has 221 modern dune campsites, and rent-able mini-cabins on the campgrounds.  There are several picnic areas and a picnic shelter for rent.
RIP CURRENTS
Rip currents are dangerous, powerful, channeled currents of water flowing away from shore. They can occur at any beach on Lake Michigan. As waves travel from deep to shallow water, they break strongly in some locations and weakly in others, this can cause circulation cells which are seen as rip currents: narrow, fast-moving belts of water traveling offshore. Safety tips for rip currents are provided at all Harbor Country beaches. Even experienced swimmers can be caught in rip currents!
Beach Safety Location System  Blue beach markers are installed every one tenth of a mile along the Lake Michigan shoreline. Starting at the 7.8 mile mark and extending to the 14.7 mile mark. These markers are coordinated to the Berrien County 911 system for faster emergency response in the event of a mishap. You can also call the local emergency center 866-630-7679.
BEACH CONDITIONS  Beach and Water Conditions  |  Rip Current Warnings  |  Water temperatures